Today I am going to celebrate Friday in a BIG way, it's our first full week off of school and I've been running around like a chicken with my head off all week long, so today, I'm going to play! Don't forget to leave a comment, and for all of you wonderful followers, a great big THANK YOU! I'm almost at 300....yay....maybe we'll have a party!
http://www.toddlerawesome.blogspot.com/
http://heartsmakefamilies.com/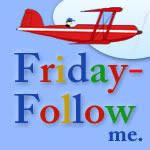 And while you're here go to the sidebar and check out my 2 contests!