Brrr....it's chilly here, last week it was over 100 and for the last few nights it's been getting chilly at night, my body needs to get used to this, and have you noticed how much earlier the sun goes down? I love fall, I'm just not ready, the only school books I have for my kids are for Algebra, I have a ways to go!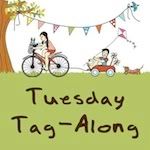 But hey, the cooler weather is getting me back into knitting! But for now.....How about some Tuesday Tag A-Long fun today? Join
Twee Poppets
and I for a Tuesday Blog Hop!
...and while you're here, leave a comment so I can visit you, and check out my contests:
*Book giveaway ending 8/23
Blind Hope
*Book giveaway ending 8/31
Amish Proverbs
*
Jewelry party
and giveaway ends 8/26