ABOUT THE BOOK
How far will she go to follower her dreams?
The Civil War stole a father and brother from Faith Lindberg - as well as Royal Baxter, the man she wanted to marry. With only her grandfather left, she dreams of leaving Noble Springs, Missouri, and traveling west to Oregon to start a new life, away from the memories that haunt her. But first she must convince her grandfather to sell the family's mercantile and leave a town their family has called home for generations.
When Royal Baxter suddenly returns, Faith allows herself to hope that she and Royal will finally wed. But does he truly love her? Or will another man claim her heart?
MY THOUGHTS
This is a sweet story that starts out with a bit of sadness as Faith deals with her ailing grandfather and the loss of those she loves. The story kind of makes you wonder what it is that Faith is truly longing for, does she just need to start over, somewhere fresh, somewhere without memories, is her heart truly longing for Royal, or is it longing to reclaim memories of the past?
I enjoyed this story, it was a very good, endearing read for me and I think you'll enjoy it as well.
"Available January 2012 at your favorite bookseller from Revell, a division of Baker Publishing Group."
*I received a complimentary copy of this book in exchange for review from Revell, a division of Baker Publishing.
Author, Ann Shorey is hosting a giveaway to promote her book!!!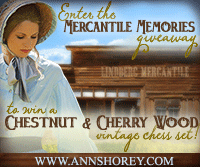 In Where Wildflowers Bloom, Book 1 in author Ann Shorey's brand new Sisters at Heart series, Faith Lindberg wants nothing more than to escape her small Missouri town, and the graveyard of painful memories left by the Civil War. She plans to sell her grandfather's mercantile, and join a wagon train bound for Oregon. But her grandfather, and a handsome stable man have other plans!
To celebrate the story, author Ann Shorey and Revell Books are proud to announce the MERCANTILE MEMORIES giveaway, featuring three incredible prizes.
Our Grand Prize winner will receive an heirloom chess set, handmade from 1830s chestnut & cherry wood, just like the one Judge Lindberg and Curt use in their chess battles.
Our Second Prize winner will receive a deluxe, Missouri-shaped box of mercantile goods from the Missouri Mercantile company. The box features an assortment of items just like those stocked by Faith in Lindberg's Mercantile.
Our Third Prize winner will receive a Memoirs Gift Set. Write your memoirs just like Judge Lindberg does in the story! The set includes the bestselling Writing the Memoir book, and a $30 gift card to Blurb, to create and print your story.